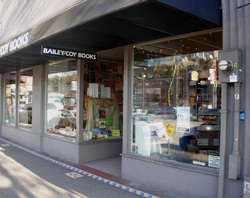 Brand name authors increasingly dominate the bookshop front rows - though at least in one respect Kindle Indies have the last laugh.


Last year when I first put my back-list titles on Kindle, I also sent a notification to my email list.
Now amongst those were several crime and mystery reading groups in the USA, many of which had their periodic get-togethers in local bookstores.
Some duly responded with thank-yous for the notification, but one lashed back: 'How dare you send this to us! It's people like Amazon Kindle who are putting us small independent bookstores out of business.'
Now at the other end of the scale, Kindle has been tremendous for many writers. Established writers have seen a whole new audience opened up with the advent of kindle - but the real boon has been to fledgling authors previously unpublished. Some/many, readers might argue, should have remained that way - unpublished; but in turn some/many are very worthy. Look at the various 'Indie' author blogs and comments and you'll see heartbreak tales of writers trying for years to get published without success. And just at the point of starvation or when they're about to jump off a bridge from the constant rejection, the shining knight in armour of kindle rides up to the rescue. Heartwarming tales indeed.
But what I found ironic about this bookseller's retaliatory comment was that it has in fact been the 'greed' of bookshops which has brought about this cycle. A strange word to use, 'greed', you might say, in the advent of so many bookshops fighting for their lives, and the likes of Borders going to the wall not so long ago. So let me explain.
The business of selling books has increasingly been driven by 'promotions' the past 15 years. Now in the mid 1990's, though these frontline bookshop promotions were paid for, the costs were not excessive and most publishers could budget them in comfortably for a new author. Also they gave opportunites for new authors to 'price-compete' because invariably the new Grisham or Clancy title would be sold at full price (they were far too grandiose to get themselves involved in the tawdry business of discounting).
So a publisher could list a new author at 20-25% below the latest Grisham or Clancy, and if exposed on the front line of bookstores, sales could be very bullish indeed.
But then two things happened: year by year the costs of front-line promotions went up (now a decent book-chain promotion can cost anything from $10,000 - $30,000) - so to hit bookstores on a multiple basis, the outlay can be $100,000 or more. Then the major authors also discovered that price discounting could greatly boost their sales, so they wanted first dibs on these; or perhaps their publishers made those decisions for them.
However, as any agent will tell you: if a book is NOT promoted and does not get on that front line in the bookstores, the chances of it selling well are low. And that's even more acute for a new author. A well known author stands a good chance of selling well from the back rows. But reverse that position and imagine you're a little known author selling from the back rows of a bookstore at full price, while the front rows are dominated by brand name authors selling at a discount or 2 for 1.
I recall the ex-MD of Penguin UK, Helen Fraser, lamenting how it had unfortunately become (largely as a result of these bookstore price-promotion policies) an 'All or nothing' game. The costs of getting into these bookstore promotions were so high and the resultant risk so great to launch new authors that increasingly publishers were shying away from even attempting to do so. And so we return full circle to the Indie author with a worthwhile book losing the will to live after countless rejections, with some insight now to the backdrop as to why this is happening.
So, paradoxically, we have a price-promotion strategy starting as a bookstore ethos which when passed on to publishers makes them cut back on the new authors they take on. Kindle then arrives and opens up new opportunities for those previously unpublished authors, and as it develops starts to threaten the bookstores and the very structure of traditional publishing which originally closed so many doors to them. A certain poetic irony, you might say. 'Karma in practice' and the 'Goths and Rome cycle all over again'; and all the other worn comments that probably sound better after a doobie or two.