Home Page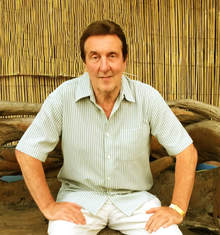 Update Notice
1st September, 2020. I have recently signed a contract with
The Write Direction
, an independent e-book publisher making great guns in the USA and UK with the Joe Johnson series (The Last Nazi + 5 follow-up titles) to publish three books in the Jameson and Argenti series. All three books have been re-edited and re-published with fresh covers and titles:
Murder in Manhattan, Diary of the Dead
and
A Blood Red Diary,
with the first to appear later this week and the other two books over this next month (14 days apart).
Indeed, this will be the first time that the third book,
A Blood Red Diary
, has been made available to readers.
__________________________________________________________________________
​
Welcome to Books & ebooks.
I chose this particular title because ebooks have becoming increasingly important for both authors and readers these past few years, a trend which I see continuing.
Some authors have known nothing but ebooks and kindle in order to reach their reading audiences. Others such as John Locke, Amanda Hocking, Hugh Howey and
E.L. James* built up such sizeable ebook audiences that they found themselves suddenly courted by mainstream traditional publishers. While conversely authors such as J.L. Konrath and Barry Eisler have had notable traditional publishing careers but swear that now they've been lured over to the kindle 'dark side' (trad publisher and bookshop terms, not mine :), they'll never go back.
Then finally you have authors such as myself, Rebecca Forster, Stephen Leather and David Ashton, who have had significant traditional publishing careers but now keep a foot in both camps. Indeed even authors such as Michael Connelly either have free short books or samples regularly on Amazon Kindle as 'tasters' to the rest of their work.
* (worthy of note is the fact that E.L. James's publishing success was kick-started by a small Australian literary press which specialized mainly in ebooks).
Sub headings
The sub-headings for this site are all listed above. Under Books, Reviews and Excerpts, you'll find general information about my own books, whereas industry news and information about other authors' books and reviews can be found in Blog or Contacts.
Blog
comments will also include some current event, political and social comment outside of the book industry. Links will usually be given to all books currently available on Amazon.
In
Contacts
in particular I've tried to provide a useful guide to book bloggers and reviewers, promotional sites and other authors' websites. The sort of handy guide that I would like, so hopefully other authors and book aficionados will find it worthwhile too.
Finally, new covers and links on Amazon kindle to most of my books as part of a fresh 'branding' exercise. My various book covers have been produced at different times and by different cover designers - most with Penguin, but others with Hutchinson/Arrow - and this has given a disparate feeling to many of them. This new 'branding' is so that readers on Kindle will quickly recognize a John Matthews book. Most of them have also now been put under a generic series heading:
JM Mystery-thriller Series
​
The links between these books is thematic rather than character led - although there is also a shared trait which runs through nearly all of the main characters: that of a normal individual - which could be you or I or the man or woman down the street (thus a more realistic 'relating to' than many of today's super-invincible-action heroes) - up against impossible odds. Dominic Fornier, the young policeman in Past Imperfect, trying to solve a thirty-year old murder case which becomes one of the most unusual and challenging in French criminal history; Elena Waldren in the Last Witness, an orphanage aid-worker trying to track down a child lost to her for thirty-five years, only to discover that they're the last witness in a major mafia trial; Jac McElroy in Ascension Day, who has only 47 days to save a death-row prisoner's life - with the added complication that the prisoner wants to die!; Sam Tynnan in The Prophecy, the writer of a mythology thriller who finds himself at the core of a global terrorist wave threatening world peace; Paulette and Bernard Tanner in The Second Amendment, where a university thesis catches the attention of the Vice-President and threatens the Constitution on the thorny issue of gun control; Andre Lemoine in The Shadow Chaser, a cutting-edge geneticist with a possible cure for AIDS and cancer up against Big Pharma; Ryan Lorimar and Jessica Werner in Blindsided, two young teens with 'special sight' gifts who come to the attention of a specialized FBI unit dealing with the paranormal.
They are also all books which strike new ground, or if they do go into familiar territory, they tackle it in a different and unconventional way. Past Imperfect, while billed as essentially a crime-legal thriller, had at its heart a very different and unique para-psychology element - which took it more into Stephen King or Michael Crichton territory. Para-psychology and the paranormal features in some others in the series too - although each in a different way. Others simply take a previously unexplored angle on an intriguing subject - but all of them without exception have central characters who, in the face of extraordinary dilemmas and challenges, go that extra mile, with a mystery-thriller element common to all of the books, thus the series title link.
______________________________________________________________________________________
---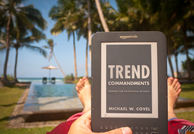 Click on the pic or
Contacts
for the best author review and kindle/book promotion sites, along with leading author websites and blogs.
This is the sort of handy one-stop-shop list I
often
found myself seeking, but the information could only be found by accessing several separate locations. So what I've done in Contacts is collate it ALL under one heading. As probably the best one-stop-shop author promo and review guide on the web, you might want to bookmark it!
______________________________________________________________________________________
---

​Jameson and Argenti


​More this month from the intrepid Jameson and Argenti duo. The Write Direction, a dynamic independent publisher, has just taken on three books in the series to re-launch and re-publish with fresh titles: Murder in Manhattan, Diary of the Dead and A Blood Red Diary - the last one of which has never appeared in the UK or USA. In fact, books one and two have only appeared in Germany, Russia and Italy, and book three, A Blood Red Diary, will be its first appearance internationally.

They will be published both as e-books and trade paperbacks later this month, September, 2020.
---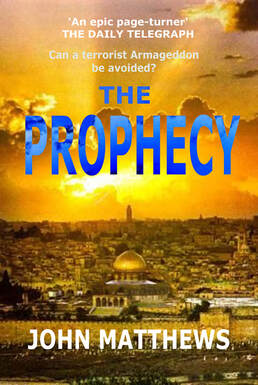 ​The global battle against terrorism and the ultimate prophesied showdown between the West and Islam.

Sam Tynnan is convinced that with his latest novel, The Prophecy – a unique interweaving of ancient prophecies with current-day Islamic terrorism – he's written the thriller of the year. But when he finds himself targeted, he realizes that some people are determined to bury what's he's written.

Adel Al-Shaffir, Egyptian-born, heads an Arabic language 'activity' tracking centre at the forefront of hunting down the world's leading terrorist, Abu Khalish.

But as Tynnan's manuscript starts being played out in real-life with a chain of bomb attacks and his path collides with Al-Shaffir's, the question begs: could what Tynnan's written be used to avoid the prophesied Armageddon of his manuscript?

Or are both of them merely being used as bit players in that script, a terrifying odyssey in which ultimate conflict is unavoidable. A case of art mirroring life or life mirroring art? – with the stakes as never before.
---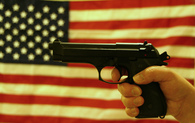 Due to events in the USA, two
blog
entries have been devoted to gun control, a central theme in The Second Amendment.
One comment covers the history of gun control over the past twelve years, the other actually proposes a ten-point plan based on the Swiss militia. After exhaustive research, this was one of the few plans to have a chance of pleasing both sides. It follows the 2nd Amendment to the letter - indeed goes a step further in ensuring an efficient and well-regulated private US militia - plus also gives full provision for personal and private protection. An increasing concern of US citizens - that if guns are restricted, criminals will keep theirs and private citizens will be left unprotected. This proposal addresses that concern, plus also satisfies recent Supreme Court rulings regarding militia vs personal protection use of firearms. Check out the plan and comments (and RT and pass on to address-book friends) by clicking on BLOG.
______________________________________________________________________________________
---
The Second Amendment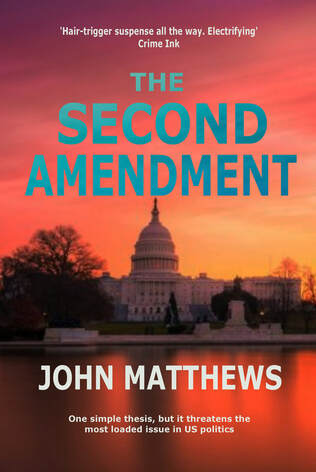 ​One of the most controversial
​thrillers of the past decade. ​


​One simple thesis.
But it threatens the very roots of the Constitution.
There's too much at stake.

20,000 gun deaths a year, schoolyard massacres, and now a wave of militia bombings... America is under siege. An explosive, uncompromising thriller which confronts head-on one of the most fiery issues of the past two decades: gun control.
---