Reviews

Past Imperfect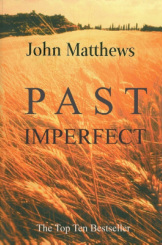 'A classy, well-written and unusual thriller.' -- Yorkshire Post

'Impressive... strong characterization and a relentless race against time to avert the worst carry the reader along the thick pages of this psychological and legal thriller with a difference.' -- Time Out

'Intriguing thriller (with a) ...dogged and sexy French detective. Treat yourself.' -- Prima

'Matthews delivers one of the best debut thrillers in years, brave, ambitious and remorselessly entertaining. Past Imperfect is a stormer.' -- Dublin Evening Herald

'Matthews maintains the suspense... an engrossing odyssey into the seamy side of a world that is so near, yet sometimes seems so far. Compulsive reading.' -- The Times

'One of the most compelling novels I've read... an ambitious and big novel which will keep you enthralled to its last page.' -- Cork Examiner

How does a new thriller writer carve out a name for himself in an overcrowded field? With Past Imperfect, Matthews shows that he is already a novelist of real accomplishment. Spanning three decades and moving between France, America and England with a slew of forensic, medical and psychiatric evidence to keep the reader irresistibly gripped, Matthews sets his narrative in motion with a car accident in California that has deadly consequences for two boys left fighting for their lives. French detective Dominic Fornier (a character owing not a little to Simenon) finds himself pulled out of the sluggish rural backwaters he is used to in order to unearth the clues that lie in a young boy's psyche. And the blackmail and political intrigue that Fornier encounters are no less intimidating than the ruthless killer determined to ensure that his identity is not disclosed. The exhilarating, picaresque sweep of Matthews' plot needs to be held together with a strong protagonist and with the laconic Fornier, Matthews has created just such a hero. If at times, one may feel the changing of gears between the legal and forensic aspects of the piece, this hardly matters. The delineation of each country is accomplished with dash and verve, and if (at 500 pages) this is a lengthy read, few will find their attention straying at any point.
--Barry Forshaw - Amazon UK
---
Ascension Day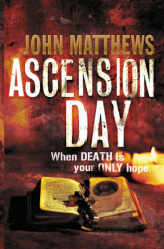 'Matthews certainly knows how to keep the reader hungry for the next revelation'.
- Kirkus UK.

Ascension Day is like a narcotic, laced with danger, and totally
addictive. Impossible to put down. This is what thrillers are meant to
be. Jac McElroy is a character I want to read more of.
- Jon Jordan. Crime Spree Magazine.

Goes to the wire... a gripping thriller.
- The Scotsman.

'If John Grisham ever developed a sense of irony, or Scott Turow ever tried to write from the other side of the prison bars, they might come up with something like John Matthews's Ascension Day. This is a book that doesn't sacrifice style for suspense, or character for plot. The legal thriller has needed a jolt of electricity for a few years now and Matthews may just be the man to throw the switch.'
- Peter Blauner, Author of Slipping Into Darkness and The Intruder.

'Move over Grisham, your reign is over! Reminiscent of vintage Grisham, but Matthews has his own distinctive style. Strong, believable characters and a plot that grips from page one and won't let go, twisting and turning its way towards a nail-biting climax - they don't come much better than this. One of the best and most memorable thrillers I've read in
years. A winner all the way.'
- Bob Burke. Mystery Readers International.

'ASCENSION DAY is a fast-paced thriller set between New Orleans and an upstate Louisiana prison, and Matthews' strong descriptive prose brings the darkness at the heart of Libreville penitentiary alive. His chief protagonist, Jac McElroy, is particularly interesting with his Franco-Scottish heritage - and his ever-changing relationship with prisoner Larry Durrant sets the main pulse for this race-against-time thriller... with the stakes and tension racheted up throughout the book.'
- Luke Croll, Reviewing the Evidence.


---
The Second Amendment (#1 & 2)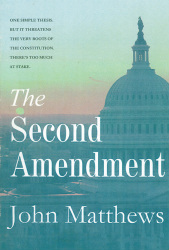 If Vince Flynn and John Grisham got together to tackle probably the most controversial issue of the past two decades - Gun Control - this is what they might come up with. Hair-trigger suspense all the way. Electrifying.
Crime Ink

The FBI and Capitol Hill go head-on against the far-right and self-appointed militias in this no-holds-barred thriller. Amongst all the bullets and mayhem, the thorny issue of gun control is also handled sensitively – but don't expect much time to draw breath between the two. A 'loaded' issue in more ways than one.
Books, etc.

A novelist of real accomplishment.
Amazon co.uk.

---
The Last Witness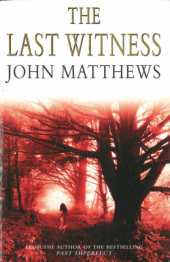 Distinctively written… all the forceful energy of the best thrillers.
- Kirkus Reviews.


Gripping, pulse-racing. A police departments determination to bring down a leading crime family merged with one woman's quest to uncover a secret past.... Brilliant!
- Evening Herald.

If you think in terms of the sort of 'woman in jeopardy' mysteries that Nicci French writes so well, blended with a harder-edged 'Sopranos'-style thriller, then you'll have nailed the heart of this story. Strongly sketched characters and emotions make this one stand out from the pack.
- Murder One.

---
The Shadow Chaser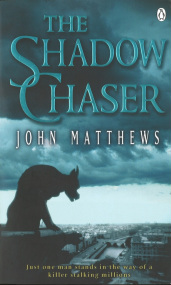 A thumping great read and a terrific tale, terrifically told.
- Ireland on Sunday.

Bold and different. A rollercoaster thrill ride against a backdrop of genetics research straight out of today's headlines. Should appeal to fans of Michael Crichton and Robin Cook.
- Metro.

A novelist of real accomplishment.
Amazon co.uk.


---
Blind School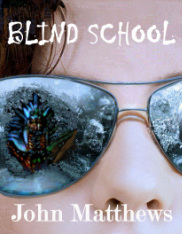 'An adrenalin-rush, one day read. If you've ever wondered what might make mass-murderers and megalomaniacs tick, now you know. Never has the ongoing fight between good and evil been so much fun, or so frighteningly real.'
- Wendy Mellor, Simply Scripts.

'Harry Potter with attitude. Plumbs into the teen readership that has made Harry Potter and Twilight so popular, but with a wry slant that would also make it appeal to adults. Has 'kidult' written all over it.'
- Tom McIntyre, Xanadu Productions.

---
Letters From a Murderer


A thrilling tale of murder, corruption and trust, Letters From a Murderer is an exciting and captivating read and entirely unputdownable... A mix of neo-Victorian fiction, Sherlock Holmes and plenty of action, Letters From a Murderer made for a completely mind-blowing tale and left me wanting even more from the pair. Uncorked ThoughtsFast moving story that grips you and constantly surprises you as it turns one way and then another... The characters too are sympathetic and intriguing. Set at the turn of the century, the atmosphere of the growing city with fast developing industry and the accompanying underbelly of vice and corruption is beautifully portrayed by Matthews. I thoroughly enjoyed this book and found it an immensely engrossing read. This book will certainly appeal to many lovers of the crime fiction genre. Crime SquadIf you're interested in historical crime, whether fact or fiction, then John Matthews has produced a book with a fantastic conceit... The milieu is fascinating and well described, and the two protagonists appear to have enough difference between them to develop an intriguing relationship where the sparks will sometimes fly. Crime Fiction LoverRacehorse of a narrative gives way to a thrilling dash for the finish... Matthews's (Past Imperfect) latest is likely to be wholly satisfying to Ripperologists and Victorian enthusiasts. Fans of Matthew Pearl, Alex Grecian, Lyndsay Faye, and Alan Moore should take special note

.

Library JournalCarefully crafted tension... Matthews has successfully written an exciting historical thriller which perfectly captures the atmosphere of the age.Upcoming4.Me I had high hopes for this book and it did not disappoint. I expected it to have a Sherlock Holmes, detective mystery feel to it, and it completely consumed my attention. The plot flows easily, is intriguing and captures your attention within the first few chaptersMean who you areAdd a dash of unique and excellent characterization and you have one explosive novel that will not let you put it down until you're finished, no matter how tired you may be.Meeting Chance - Jennifer LavoieJohn Matthews ticked all the right boxes. From the interesting and odd coupling of Jameson and Argenti, to the characterisation of peripheral prostitutes and victims. Each element was three dimensional and invoked a sense of realism which helped transport me to the time where this heinous tale of bloodshed was splashed across the headlines.Just a Guy That Likes to Read
In a word ... brilliant. Over the years there have been a number of books, tv shows and films based on the Ripper murders. This is the best by far. I was gripped from page one right through to the end. The story, the characters, the setting, it was all perfectly executed. In fact, I am writing this now having finished reading it about ten minutes ago and my heart is still racing.Dream Believe Write

Letters From a Murderer

was a compelling read with two fabulous lead investigators, who I hope we'll get to see much more of in the future. Matthews tells a great story laced with pathos and unexpected twists, which I just couldn't put down. It was an exciting and gripping narrative, which elaborates on the Jack the Ripper mystery in a novel way. If you enjoy historical crime fiction, this is the book to put on your Christmas wish list this year.

A Fantastical Librarian Letters from a Murderer takes Jack the Ripper and plops him down in New York in 1891. Argenti, the immigrant cop, is an honest man in a dishonest place, fighting just to keep his head above water in a city of corruption. Finley Jamson is a privileged Englishman with quite a few quirks. Together, they make a pretty good team. The supporting cast is equally good. You get Ellie, the prostitute who hasn't yet been broken by the business, Lawrence, Jameson's autistic savant manservant, and the Tierney mob. Michael Tierney reminds me of Al Swearengen from Deadwood quite a bit. The Ripper is quite Ripperiffic and the violence is gruesome whenever he appears. Letters From a Murderer was a gripping read and I'll be picking up the next Jameson and Argenti mystery.Shelf InflictedWe get to see the story from many points of view. I especially liked the killer's view point and his taunting letters which make the story more sinister and exciting. There is also a gang related crime story running alongside the Ripper murders that introduce more characters, and which interlink with the investigation... The story is well told; gritty and gruesome in all the right places, and with plenty of action. Letters from a Murderer is an interesting take on the Jack the Ripper theme and a solid historical crime fiction read.Books ButterflyI was quickly hooked by Letters From a Murderer and could not put it down. I'm already looking forward to the next case! This is one hell of a roller-coaster ride: a detective story, a psychological thriller, a historical mystery and characters who are all too human.Popcornreads I read this with my heart in my mouth for much of the action – A particular scene in the Opera house made me race through those chapters only to have a palpitation at the end result. This is not just a crime or detective novel however – it is much more than that. The depth and layers of the action was a real highlight... Corruption within the police force was a theme as was the insight into the type of girls that the Ripper targeted. The victims were much more than victims. A novel with so many ingredients can only result in a fully baked Victorian drama. I am already looking towards the second installment.The Book TrailI know this is jumping right into things but I need to say it, I really hope the author carries on with this series... The idea of the ripper going to the U.S. and carrying on with his work isn't exactly a new one but Mathews explores it well. The author provides the reader with well fleshed out characters and the reader gets to see parts of the story from the points of view of different characters... I wouldn't hesitate to recommend this book to fans of literature set in the 1800's particularly those who also enjoy mysteries. I need that bookFor lovers of TV shows, I would say that this novel is a beautiful blend of Ripper Street and Copper, as much for the atmosphere as for the characters. A very good book, full of action, chases and twists. This is the first novel about Argenti and Jameson and I can not wait to read more!BookshelvesA world full of the 'hustle and bustle' of noisy smelly streets, dark sinister alleys with a crime detection force on the cusp of modern day forensics. Think Sherlock Holmes with a touch of The Gangs of New York and a dash of Deadwood... works wonderfully well making 'Letters From A Murderer' an exciting, captivating, thrilling and believable read.House of BooksLetters From a Murderer does a great job of balancing multiple storylines as well as the larger balance of plot and character. Matthews not only creates intriguing sympathetic characters inhabiting a gritty gaslight New York, he tells their stories in a way that make it nearly impossible to put this book down.Fed on Peaches
Author John Matthews brings something new and fresh to the infamous serial killer. He is descriptive in the killings and is gruesome. Letters from a Murderer is worth the read and highly recommended to fans of Jack the Ripper and Sherlock Holmes.Books with TienRigorous pace, with an exciting mix of suspense and mystery as our investigators have to try and solve the puzzle... fans of crime fiction or historical mysteries will probably find lots to like about this one, especially if you have an interest in Sherlock-Holmes-style books or Jack the Ripper stories.BiblioSanctumA taut, well written historical thriller with amazing attention to detail. ExcellentCayocosta72 Book Reviews
The book's main mystery is well done full of suspense as well as many twists and turns. I also liked how Matthews complicated matters for the investigation with interference from an outside party. Overall this book proved to be a great read that I would most definitely recommend for any mystery enthusiast. BooklikesThe book has gripping characters which has already been commented on. As a thriller, it works brilliantly and shows the powers of recommendations from friends of books. You can decide if it is for you or not, but the style (literally 'letters' which explain much of the plot) is engaging, different, and enjoyable.The Write ThoughtMatthews is deft at creating atmosphere and painting a picture of the Victorian era. You can almost hear the clicking of the horses' hooves as the hansoms go by, the bustling of the crowds in the busy city by day, feel the danger lurking in the dark shadows at night on streets meekly lit by lamplight, if there is any light at all. He also conveys the stark reality of the social/economic differences between the haves and the have nots – very Dickensian in mood and tone. His strong characterizations bring out the flaws, as well as the strengths of the characters, creating empathy and sympathy for many, and a sense of appallment for the behaviors of others.The Birk Barch

---